MovieNite Internet Media Player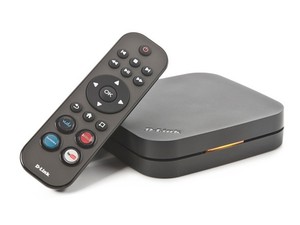 Set up your D-Link MovieNiteTM in just three easy steps: plug MovieNite into your TV and power outlet, use the simple onscreen menus to select your content, and sit back and enjoy the show as your favorite movies, shows and music are streamed directly to your TV.
Stream: Netflix, VUDU, YouTube, Pandora, Picasa and more
Built-in 802.11n WiFi and Ethernet 10/100
Network protocol support: IPv4, ARP, UDP, ICMP, DHCP client, DNS client, HTTP
MovieNite remote app available for iPhone and Android
HDMI 1.4 and Audio/Video analog output
Regular Price:$149.99
Clearance Sale Price :$39.99 GRAB THIS MCM Electronics
---
P4 3GHz Barebone PC 1GB and 160GB
Build your own PC with this barebone kit. Looking for a starter system ? Look no further than this Asus barebone system. All that is needed to get up and running is a keyboard, mouse and an operating system. the small form factor makes this a great starter office system or internet PC.
Barbones system- Operating System not included
160GB Hard Drive
1GB DDR2 Ram, upgradeable to 4GB
DVD-Rom drive
Memory Card reader included, Limited Quantities, Factory Refurbished
Regular Price:$699.00
Clearance Sale Price :$99.99 GRAB THIS MCM Electronics
---
Professional Heavy Duty Full Size Headphones
Take advantage of this limited time buy out price!
Well suited for professional DJ's seeking sound intensity and bass, the Teac CT-H2000 Full Size noise isolating headphones are every bit as well suited for any music lover.

Designed to endure the rigors of a recording session, these closed headphones just as easily enhance typical listening sessions.
With an extended frequency response, closed leatherette ear cushions and great sound.
The lightweight CT-H2000 noise isolating headphones are suitable for any level of music enthusiast.
Regular Price:$62.99
Clearance Sale Price :$19.99 GRAB THIS MCM Electronics
---
Wireless Audio System with AirPlay
Unlock the wireless potential built into virtually every iPad, iPhone, and iPod touch, with the AR Wireless Audio System with AirPlay.
Give your playlists the sound they deserve with streaming wireless audio and high quality AR sound.
Just plug in an audio system speaker, connect it to your WiFi network, and presto: you're ready to stream music wirelessly from any iPad, iPhone, or iPod touch in your network, instantly!
Free AR Connect App gives you easiest setup available
Multi-room enjoyment: multiple speakers anywhere in your home
USB port charges your devices
Regular Price:$299.00
Clearance Sale Price :$59.99 GRAB THIS MCM Electronics
---
Bluetooth Bookshelf Speakers
The Arion AR204B-WH 2.0 Bluetooth Speakers puts you at the center of your multimedia experience. When it comes to your desktop computer, it's more than a computer – it is your music center and your movie theater.

To bring out the best in these moments, you need a speaker system that will deliver enriching and invigorating sounds.

Each of the satellites comes crafted in black wooden enclosures, wrapped around a polished white panel – a contemporary design that will complement any computer or entertainment system.
Regular Price:79.99
Clearance Sale Price :$59.99 GRAB THIS MCM Electronics
---
TS-1001A Naturally Atomization Humidifier Humidifying Machine for Car Family Office - 300ml Capacity
Provide health air environment for your family:
Whether for car driving or home living, you will need safe and full-range air environment protection for your family member especial if you have kids. This naturally humidifier with lovely expression design will be the perfect choice for you. It will improves the air humidity to make your skin feel more comfortable.
You can add few drops of essential oil into the water to refresh air
Water tank capacity: 300ml
Rated voltage: DC 5V, Rated power: 2W
Low electricity consumption
Regular Price:12.59
Clearance Sale Price :$9.64 GRAB THIS Everbuying
---
EACH B3505 Super Audio Bluetooth 2.1 Wireless Gaming Headset with NFC Function Mic Answer End Call for Smartphone Tablet PC
This Each B3505 Bluetooth Gaming Headset will bring you exciting game experience. After being paired, it can search the evice up to 10m distance. With NFC sharing function, when being apporached the headphone within 10mm, it can automatically connect to the Bluetooth.
10m Bluetooth connection without barriers
NFC function
Volumn control
Next / previous musice function
Pause / play function, Answer / end call function
Regular Price:50.98
Clearance Sale Price :$27.99 GRAB THIS Everbuying
---
F28B 1.5 inch LCD Display 1080P FHD Sports DV Camcorder 150 Degree Fish Eye View Lens Digital Video Recorder Support HDMI
This sports camera provides simple operation, allowing you to capture all those memorable moments. Its robust design, encased in a stylish black metal finish, provides a durable, waterproof sports camera ideally suited to bikers, skiers, surfers, hunters or any other activity that requires hands free operation. Record your video in clear 1080P resolution and simply download from the Micro SD card into PC / Mac.
1.5 inch High Resolution LCD capturing HQ 1080P FHD video
Ultra compact and lightweight design
30 meters waterproof
5.0MP wide dynamic HD image sensor, Multiple video formats: 1080P @30fps, 720P @30fps, 720P @60fps and WVGA @120fps
Perfect for outdoor sports, extreme sports, water sports, home security, car DVR, diving, etc.
Regular Price:$81.84
Clearance Sale Price :$44.00 GRAB THIS Everbuying
---
Artic White iPhone Controlled RC Helicopter
The Artic White mini helicopter is a simple to use R/C helicopter that is ready to fly!
Unlike most R/C helicopters that came with a remote control, this chopper includes a transmitter that allows you to control the helicopter using your iPhone or iPad (requires HelicopterGame App to fly).
Simply connect the transmitter to the device and you can fly it forward, backwards, up and down, and left or right!
The Artic White mini helicopter comes with LED lights and includes a stabilizer and coaxial rotors.
Plus, its 3.5-channel Gyro system provides maximum stability while flying.
Battery and Transmitter charges via USB port, cable included. Fully charged you'll get up to 9 minutes of flight time!
Regular Price:
Clearance Sale Price :$19.99 GRAB THIS MCM Electronics
---
EACH G6000 Cool Lighting Stereo Gaming Headset Noise Cancellation 2.2m Cable Headphone with Mic for Computers iPhone iPod Smartphone Tablet PC
EACH G6000 is a professional gaming headset for computer game players. Features 50mm super big driver unit, delivers clear sound and deep bass for Real Game.
Cool lighting effect gaming headset, perfect for playing games and listening music
Soft cushion head-pad and ear-pad, as well as adjustable length hinges guarantee hours of gaming comfort
Flexible microphone for exact positioning, and mic with great sensitivity at picking up sounds, your partner can hear your words clearly
Little smart in-line sound control for sound and Mic
One buttom mute key function, LED lights are designed on the earcups
Regular Price:$52.68
Clearance Sale Price :$27.06 GRAB THIS Everbuying
---
AIAT AT-BT809 Foldable Bluetooth Hands Free Headphone Bluetooth V2.1 Headset with Mic Support Line-in Music and TF Card
This foldable wireless Bluetooth stereo headphone supports multi-point pairing function with built-in microphone, lets you listen to music or phone calls wirelessly. With stereo, high quality speakers deliver crisp and rich sound, give you a superior audio experience. Compatibility with smartphones and Tablet PC with Bluetooth function.
Bluetooth V2.1
Volume control function
Song swith function, Reach and hang up in coming calls
Blue blinking LED indicates pairing status, Built-in large capacity rechargable battery
Support music from TF card, MP3, WMA format
Regular Price:$31.79
Clearance Sale Price :$19.12 GRAB THIS Everbuying
---
BST-598 Radio Interphone with Keypad Shock Water Resistance Walkie Talkie Charger ( 100 - 240V / 100cm )
As one of most popular Walkie Talkie famous brands in US, EU as well as the part of the world, Baiston lately issued the new models walkie talkie with new creative as well as high-tech products. The products are appointed as official walkie talkie in many international as well as national activities such as international meeting, Rally Championship, architecture construction etc. Baiston finishes the tasks with excellent performance and Receives the high praise from every part.
Regular Price:$86.68
Clearance Sale Price :$48.39 GRAB THIS Everbuying
---
AP001 0.3MP IR-CUT P2P WiFi Wireless IP Camera with Night Vision - 100 - 240V
This AP001 wireless IP camera adopt high technology, which will let Pan-Tilt control more accurately. It supports multi platforms, like Android, IOS, IE, Windows,etc. It can be used in home and shop security.
WiFi: IEEE 802.11b / g / n
High resolution image and video quality
Support remote Pan / Tilt control
10pcs of IR LED, night vision range up to 10m, Support multi-browsers
Alarm function: Motion dection, email alarm and FTP upload alarm
Regular Price:$63.10
Clearance Sale Price :$37.12 GRAB THIS Everbuying
---
---